Hongkong Pengfei Pharmaceutical  Technology  Co.,Ltd

Hongkong Pengfei Pharmaceutical  Technology  Co.,Ltd Choose us, best, professional steroid team wa
Home>Products>Human Growth Peptides>Pegylated MGF Human Growth Peptide Injections Bodybuilding PEG-MGF
English
Pegylated MGF Human Growth Peptide Injections Bodybuilding PEG-MGF
steroidphoebe

159519-65-0

China

GMP; ISO; SGS

10 vials

USD1/10g~USD100/10g

vial and foil bag

Within 24hours after received your payment

Western Union, T/T, Money Gram, Paypal

1000kg/mouth
Hongkong Pengfei Pharmaceutical  Technology  Co.,Ltd
Hongkong Pengfei Pharmaceutical  Technology  Co.,LtdChina
Hongkong Pengfei Pharmaceutical  Technology  Co.,Ltd2020-07-10 09:46:19

Welcome to my shop! Glad to serve you! Please send your question!
Product Details
| | | | | | |
| --- | --- | --- | --- | --- | --- |
| Product name: | PEG-MGF | Other name: | Pegylated MGF | Number: | --- |
| M.F.: | C121H200N42O39 | M.W.: | 2867.2 | Packaging: | foil bag or vial |
| Appearance: | Lyophilized Powder | Assays: | 99% | Shipping: | by express (FedEx,UPS,DHL,EMS), by air and by sea |
| Payment: | estern Union, Money Gram, T/T and Paypal | WhatsApp: | +8618872220703 | Skype: | +8618872220703 |
Product Description
Pegylated MGF Human Growth Peptide Injections Bodybuilding PEG-MGF

Product Details
PEG-MGF
Alias: Pegylated MGF, PEG Ec
Sequence: PEG-Tyr-Gln-PRO-PRO-Ser-Thr-Asn-Lys-Asn-Thr-Lys-Ser-Gln-Arg-Arg-Lys-Gly-Ser-Thr-Phe-Glu-Glu-Arg-Lys-NH2
Standard: USP
Storage: Lyophilized peptides although stable at room temperature for 3 months, should be stored desiccated below -18° C. Upon reconstitution of the peptide it should be stored at 4° C between 2-21 days and for future use below -18° C.

Payment & Shipping Terms:
Price: Negotiable
Packaging Details: Very discreet. As required.
Delivery Time: Within 24 hours after payment
Payment Terms: T/T, Western Union, MoneyGram, Bitcoin
Supply Ability: 100000 vials/month
Minimum Order Quantity: 10 vials

Usage:
Mechano Factor (MGF) exhibits local effects in skeletal muscle and without cannot travel through the body without modification. The problem with synthetic Mechano Factor (MGF) is that it is introduced intramuscularly and is water based so it goes into the blood stream. When used this way, Mechano Factor (MGF) only remains stable in the blood stream for a few minutes. Biologically produced MGF is made locally and does not enter the bloodstream. It is also short acting so stability is not an issue. By PEGylating the Mechano Factor (MGF) it is almost as efficient as local produced Mechano Factor (MGF) when used intramuscularly. This is accomplished by surrounding part of the peptide with a structure of polyethylene glycol, which can be attached to a protein molecule. The polyethylene glycol groups protect the peptide but do not surround it completely. The active sites of the peptide are still free to do their biological function. In this e the shell is a negative charged shield against positively charged compounds that would affect the protein.
Description:
MGF (Mechano Growth ) is a variant , also available as synthetic, water-based variant with less stability. MGF is generally derived from exercised or injured/damaged muscle tissue. The biomolecule mimic IGF gene expression that augments stem cell population in the muscle tissue to promote hyperplasia. Addition of polyethylene glycol (PEG) with the compound prevents spontaneous degradation in the blood stream, and increase plasma half-life.

PEG-MGF, or PEGylated Mechano Growth is a new and innovative form of MGF that outperforms natural MGF many times over. MGF is a splice variant of the IGF gene which increases stem cell count in the muscle and allows for muscle fibers to fuse and mature. This is a process required for growth of adult muscle. Natural MGF is made locally and does not travel into the bloodstream. Synthetic MGF is water based and when administered intramuscularly, travels into the bloodstream. MGF is only stable in the blood stream for only a few minutes.

PEGylation is the act of attaching a Polyethylene glycol (PEG) structure to another larger molecule (in this e, MGF). The PEG acts as a protective coating and the theory here is that this will allow the MGF to be carried through the blood stream without being broken down.

MGF exhibits local effects in skeletal muscle and without cannot travel through the body without modification. The problem with synthetic MGF is that it is introduced intramuscularly and is water based so it goes into the blood stream. When used this way, MGF only remains stable in the blood stream for a few minutes. Biologically produced MGF is made locally and does not enter the bloodstream. It is also short acting so stability is not an issue. By PEGylating the MGF it is almost as efficient as local produced MGF when used intramuscularly. This is accomplished by surrounding part of the peptide with a structure of polyethylene glycol, which can be attached to a protein molecule. The polyethylene glycol groups protect the peptide but don surround it completely. The active sites of the peptide are still free to do their biological function. In this e the shell is a negative charged shield against positively charged compounds that would affect the protein. T
Neurological research has shown that utilizing PEGylated MGF resulted in a longer more stable acting version of the MGF peptide in serum/blood.

Why Mechano Growth ? Resistance training or more specifically, a training that causes our muscles to work beyond their usual power leads to that familiar urning sensation we all have had a chance to experience during an exercise. What happens to our muscles at that point is the following: Every muscle is a cluster of muscle fibers (muscle cells), which at the point of extreme efforts tend to tear. The tearing of the muscle fibers is what causes the burning sensation. The torn parts form certain cavities in the muscle tissue and those cavities represent a chance for a muscle to grow. After those cavities are filled up with the muscle matter, we are left with a muscle of an increased mass. Why Mechano? Because tearing of the muscle fibers is an actual mechanical damage, and the only way to achieve that kind of damage is through mechanical stimulation of the muscle tissue. Why Growth? Because Mechano Growth is responsible for accelerated muscle build-up processes. Besides accelerating muscle build-up processes Mechano Growth also helps create new muscle cells. Thats a simplified way of looking at the whole process.

We will explain a few more details behind the workings of the Mechano Growth and PEG-MGF shortly.

Mechano Growth is a peptide hormone, a natural physiological byproduct created in a human body as a result of an exercise. Mechano Growth (MGF) and are isoforms. Isoform is a protein with a slightly different form but usually a similar function as its fellow isoform protein. Both, MGF (which is a liver derived hormone) (which is produced in the muscles) have anabolic effects, but the anabolic powers of the MGF are greater than those. Anabolic quality of a substance is such that increases the levels of synthesis, either at a molecular or a cellular level, meaning the Mechano Growth has a greater sensitivity to damages caused to muscles by exercise and induces the synthesis of a greater amount of proteins in skeletal muscles.

Another favorable effect of the Mechano Growth is its ability to activate the satellite cells of muscles (myosatellite cells). Myosatellite cells behave as stem cells. Once they are activated they fuse, form myoblastst, proceed to differentiate and form entirely new muscle cells. Again, the result is muscle growth.

But what about PEG-MGF? Why do we at BeFit4Free produce the PEGylated version of the Mechano Growth if the MGF on its own has so much potential anyway?

PEGylated protein (PEG-MGF) is the one that has Polyethylene Glycol added to it. The role of the Polyethylene Glycol molecule is to preserve the integrity of the Mechano Growth . Unlike the naturally produced Mechano Growth , the injected MGF needs to enter the circulatory system. That is where the problem for the MGF arises. MGF is not stable in such environment and in order to be able to reach its final destination and fulfill its role it needs to be PEGylated (and turned into PEG-MGF). Polyethylene Glycol serves as a kind of a shell protecting the MGF from reacting to its surroundings before it reaches its final destination. It makes the PEG-MGF much more stable and long-lasting than Machano Growth could be on its own.

Tag: Peptides, Pharmaceutical Intermediates, Pharmaceuticals, Pharmaceutical Chemicals, Peptide Powder, Peptide Raw Powder, Bodybuilding, Raw Powder, Muscle Building, Muscle Gains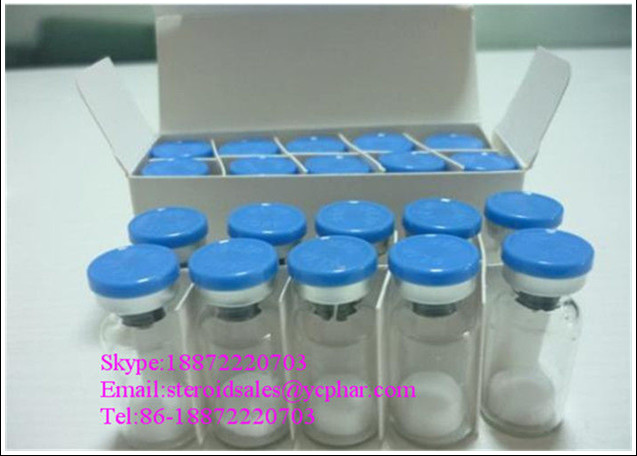 Pegylated MGF Human Growth Peptide Injections Bodybuilding PEG-MGF Images
Contact Us
Hongkong Pengfei Pharmaceutical  Technology  Co.,Ltd

Address

Phone(Working Time)

Fax